Vocation : Empowering users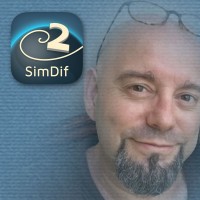 Yorick Vince
" ... Stop building your site for Google. Focus on being useful to your users, Google will take care of your site. "
My name is Yorick Vince. I am celebrating 30 years of being professionally concerned with the relationship between humans and machines. 
My vocation is to Study and Design, mostly Graphic User Interfaces & User Experiences ( UI & UX )...
I have spent the past 30 years designing software of all kinds, and 20 years creating websites to help companies of all sizes to build their identity and presence on the web ...
I have to admit, empowering users became a bit of an obsession. So much so that 10 years ago, with the help of a few colleagues, we created the first Website Builder App (on the phone) in the world, SimDif.
SimDif is an attempt to provide a useful tool to computer illiterate people, techno-phobic fellows, entrepreneurs and others who have better things to do than contrive to be web designers. 
SimDif is an app (for your phone) which aims to help you to clearly organize their content and to quickly build clear and effective "Googlable" website like the one you are reading now _ Here is our web page.